AGENDA:


1, Take morning train to Geneva
2. Tour
Geneva
3. View Chillon Castle
4. Take Golden Pass to Interlaken
5. Dinner
GENEVA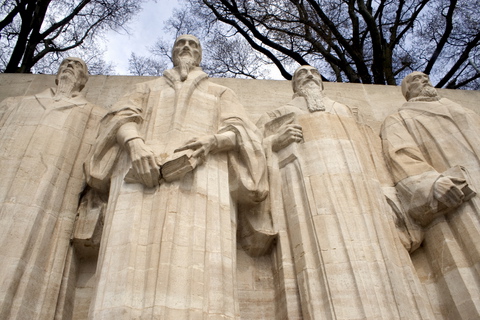 The Protestant Reformation affected Geneva. While Bern favoured the introduction of the new teaching and demanded liberty of preaching for the Reformers
Guillaume Farel
and Antone Froment, Catholic
Fribourg
renounced in 1511 its allegiance with Geneva. In 1532 the Roman Catholic bishop of the city was obliged to leave his residence, never to return. In 1536, the Genevans declared themselves Protestant and proclaimed their city a republic. The Protestant leader
John Calvin
was based in Geneva from 1536 to his death in 1564 (save for an exile from 1538 to 1541) and became the spiritual leader of the city. Geneva became a centre of Protestant activity, producing works such as the Genevevan Psalter, though there were often tensions between Calvin and the city's civil authorities. Though the city proper remained a Protestant stronghold under St. Francis de Sales, a large part of the historic diocese returned to Catholicism in the early seventeenth century.
Plan of Geneva and environs in 1841. The colossal fortifications, among the most important in Europe, were demolished ten years later.
CHATEAU-DE-CHILLON
The Chillon Castle (Château de Chillon) is located on the shore of Lake Geneva in the municipality of Veytaux, at the eastern end of the lake, 3 km from Montreux, Switzerland. The castle consists of 100 independent buildings that were gradually connected to become the building as it stands now. The oldest parts of the castle have not been definitively dated, but the first written record of the castle is in 1160 or 1005. From the mid 12th century, the castle was home to the Counts of Savoy, and it was greatly expanded in the 13th century by Pietro II. The Castle was never taken in a siege, but did change hands through treaties. It was made popular by Lord Byron, who wrote the poem The Prisoner Of Chillon (1816) about Francois de Bonivard, a Genevois monk and politician who was imprisoned there from 1530 to 1536; Byron also carved his name on a pillar of the dungeon. The castle is one of the settings in Henry James' novella Daisy Miller (1878). The history of Chillon was influenced by 3 major periods: the Savoy Period, the Bernese Period and the Vaudois Period. Chillon now hosts a museum with some historical objects preserved and is open to public tours.
The golden pass is considered to be one of the most scenic train rides in all of world. Check out its official website www.goldenpass.ch

INTERLAKEN


A view from Interlaken of Eiger, Mönch and Jungfrau